Two years ago when I was in Hawaii, standing in the middle of a vineyard growing out of lava rock, I formulated a personal goal to visit at least one winery in each one of America's 50 great states. I figured if I could find a winery in Hawaii, I could find one anywhere. At the time I thought Alaska could prove to be a challenge, but after some research I was thrilled to discover that the only challenge would be getting all the way up there! Today there are over 6000 wineries in the U.S. and at least one winery in every single state, many of which actually grow and utilize local grapes. So all I have to do is get to them!
So here is the first (of what will hopefully be over 50) lesser-known wine region recap:

Volcano Winery

Volcano, HI
http://www.volcanowinery.com
Date Visited: 09.13.07
American Viticultural Area (AVA): None
Grapes Grown:
Symphony
My husband and I were fortunate to visit Hawaii together as part of an insurance conference he was invited to attend on Oahu. I got to play tag-along and spend my days sun-bathing and sightseeing (rough, I know) while he sat in conference rooms and listened to insurance seminars (which, he claims were fascinating, but that's why he does what he does and I do what I do). We decided that once the conference was over we would take a puddle-jumper to the Big Island and stay at an
e-friend's B&B
so we could do some sightseeing together. After some extensive Googling, I found all sorts of things that I wanted to see in the short three days we would be there. (And somehow we managed to do them all!)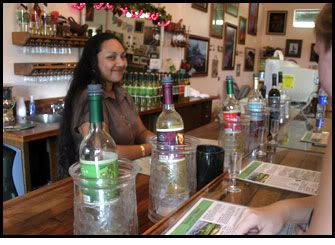 Many people on travel websites mentioned how interesting Volcano Winery was to visit and how nice the staff was. That said to me 'fun touristy place with wines not worth mentioning'. But I was wrong. It just turns out that the winery is just so beautiful and their staff is just so super-friendly that people forget to mention the wines, which is a shame really. Located less than an hour away from Volcanoes National Park (though less than 10 miles away as-the-crow-flies), this winery is virtually in the middle of nowhere. After a fun and scenic drive, we parked our rental car in their parking lot, which is nestled just beside their grapevines, and strolled into their immaculate tasting room. We were greeted with a friendly "Aloha!" when we walked in the door and given a basic run-down of their wines by the tasting room manager.
Volcano winery prides themselves on wine made from the Symphony grape, as well as blends made with exotic, locally-grown fruits. We sampled the Volcano Blush & Volcano Red (blends of wine with jaboticaba berries), the Symphony Dry, and Macadamia Nut Honey Wine. The Symphony Dry reminded me a lot of Gewurztraminer, but with the floral notes of some Torrontes wines. It was a little too perfumed for my tastes, but a fascinating wine nonetheless. We ended up liking the Volcano Blush the most, which was odd, as I have been accused of turning my nose up in snobbery when it comes to fruit wine and blush wine. Maybe in this case two wrongs made a right? --Yeah, let's go with that. (But I'll admit, I am starting to come around on the whole blush and fruit wine thing. Not all of them are pure evil, as I used to believe.)
So if you are ever on the Big Island of Hawaii, be sure to stop by the Volcano Winery for a glass or two before you head of to the steam vents and lava flows of Volcanoes National Park. It is well worth the drive to see grapevines growing in such unusual conditions and to taste a couple fruit and blush wines that are actually a welcome refreshment with all that humidity and sunshine!