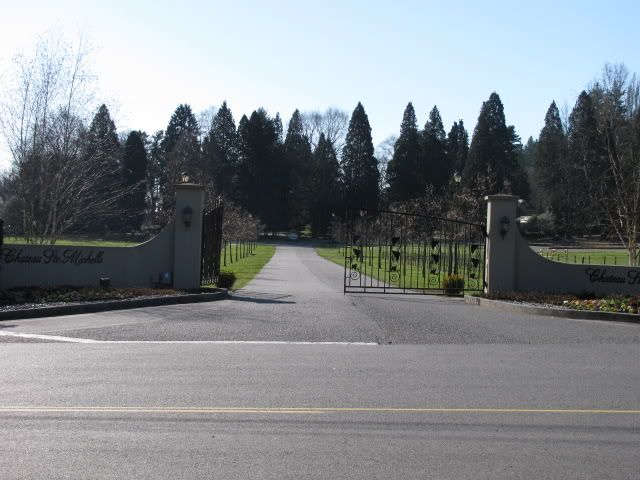 To state it simply - Woodinville is not what I expected. So many of Washington's wineries are based in Woodinville, like Chateau Ste Michelle, Columbia Cellars, Novelty Hill, Januik, and DiStefano just to name a few. I was picturing a city surrounded by rolling hills covered in grapevines with new chateaus and tasting rooms flanking the main drag. I was kind of right. There are TONS of wineries and brand new tasting rooms on both sides of Woodinville Drive. But instead being situated in the middle of vineyards, many of them are located in industrial parks, strip malls, and warehouses. The only grapevines in sight were some novelty vines here and there in front of the bigger tasting venues.
Now I should have known better. No one bottles their wine in Woodinville with a Woodinville AVA - there isn't one. Everyone sources their grapes from areas within Columbia Valley and Walla Walla. It turns out that Woodinville has become a hub for wineries because of its close proximity to Seattle, making it a perfect day-trip spot for tourists and locals. In fact, even wineries that have their actual winemaking facilities in Southern Washington have tasting rooms in Woodinville to help capture the growing interest in wine tourism.
The main purpose of my visit to Woodinville was to visit and taste the wines of
DiStefano Winery
. DiStefano was honored as
Washington's Winery of the Year in 2008
and creates an impressive line of wines. I had arranged a private tasting and tour with the owner, Mark Newton for my entire family - my husband and I were staying with my aunt, uncle, and cousin and my father flew up from CA to visit, too - so there was a small crowd for Mark to entertain, which he did ever so generously.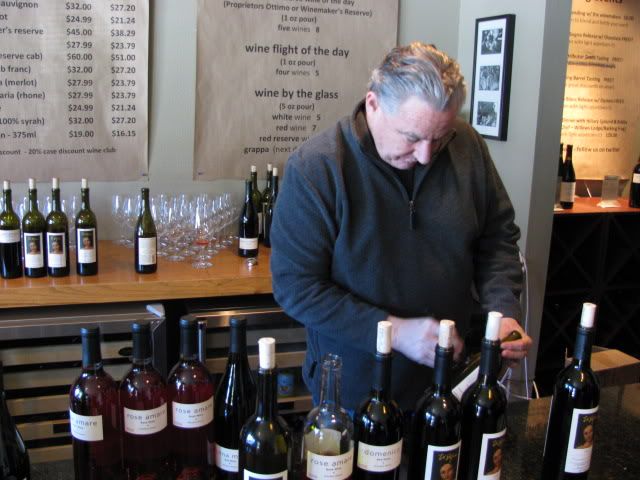 Mark started by pouring us their highly rated Sauvignon Blanc which everyone loved. It is crisp, yet still round thanks to a little bit of Semillon and some time spent on its lees (dead yeast cells). We then tried their newly-bottled ros
é which my family LOVED, to my surprise. (yes, i think good, dry pink wine rocks, but I wasn't sure my family would share the same opinion). We then continued onto the DiStefano reds and took the tasting into the winemaking warehouse. We were surrounded by giant stainless steel fermentation tanks and stacks of oak barriques. Mark went on to tell everyone about the process of fermentation and aging and the difference in oak types. We sipped our Meritages, then some Grenache, and finished off with some Syrah - by the end of it my non-expectorating family members were getting pretty loopy. We all purchased a few bottles (Mark even signed a few for my family) and we bid our farewells. All of us were famished from all that tasting, so we ventured to nearby Issaquah for some giant burgers at XXX Root Beer.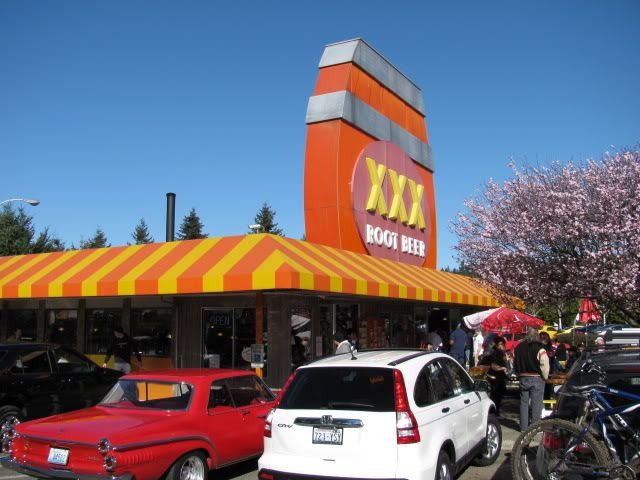 So, if you ever find yourself in Seattle, be sure to make the 20 minute trek out to Woodinville. It is a town built around wineries, restaurants, and even a brewery - how could you go wrong? Just don't expect to see sprawling vineyards anywhere nearby.